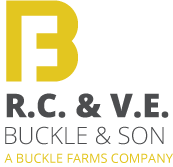 Welcome to the Buckle Farms website
Buckle Farms ltd was established in 2011, it is the operational arm of the Buckle Family and carries out arable and grass contracting services over an area in excess of 2000ha from South Holderness all the way up to Filey, North Yorkshire. The company employs a highly skilled arable team which is supplemented at busy times of the year by additional temporary help. The company's latest enterprise which started in March 2016 is haulage for bulk materials – Wheat, Barley, Oilseed Rape, Soya and also hauls finished bacon pigs to the local abattoir at Preston, near Hull.
The latest sophisticated equipment is used to achieve top quality, highly efficient field operations. GPS Guidance, Variable applications of fertiliser and seed to maximise yield potential. Some of the equipment used, Claas Lexion, Challenger, Fendt, Joskin.
Cattle Holderness state of the art indoor pig facility
Cattle Holderness was established in 1958 and has been farming in Holderness ever since. From its early days farming arable land
and growing beef cattle, the business now has a large pig herd and also owns land in the Holderness area. Winter Wheat, Winter Barley, Oilseed Rape, Vining Peas and Spring Beans are grown across the fertile soil.
In excess of 28,000 finished bacon pigs are sold per year from 1000 sow breeding herd. All the feed for the pigs is made by ourselves and uses all our home grown Wheat and Barley. The pig enterprise has a team of 8 people led by Simon Craig the manager. All the slurry is analysed and applied to our land via a dribble bar to provide the soil with valuable nutrients and fertiliser.
A 500kw EWT wind turbine was erected in 2012 to produce renewable energy for the farm, it has been producing over 2,000,000kw per year ever since. The electric powers the farm and any excess is sold into the grid. We also added 100kw of solar panels in late 2015 to help produce the energy we need, especially on sunny summer days when the wind doesn't blow as much!
Winner of 2 prestigious awards in 2015
Indoor producer of the year & Producer Of the Year award
R.C. & V.E. Buckle & Son
RC & VE Buckle was formed in the 1950's. The Farming Partnership is based at West Farm, Sunk Island which is owned by The Crown Estate. The soil on Sunk Island is extremely fertile and so the partnership is very lucky to be farming here.
High yielding crops of Winter Wheat, Winter Barley, Oilseed Rape, Vining Peas and Spring Beans are grown.The farmstead stores all the grain and also houses growing pigs which are fed on Wheat and Barley produced on the farm.